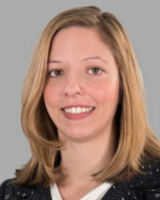 Katie Weaver Hartzog
Firm: Cranfill Sumner & Hartzog LLP
Location: Raleigh - NC
5420 Wade Park Boulevard, #300




Raleigh, NC 27607




USA
Tel : (919) 863-8744

Fax : (919) 863-3480

Email : khartzog@cshlaw.com

Katie Weaver Hartzog is a partner in the Raleigh office of Cranfill Sumner & Hartzog LLP.
Katie has represented businesses and governmental entities on all types of employment disputes including wrongful termination, discrimination, retaliation, breach of contract, misclassification, wage and hour and FLSA claims, failure to hire and promote, and claims based on alleged violation of the federal and state constitutions. Katie has developed an aggressive motions practice in which she frequently obtains dismissal or summary judgment of matters. She has also minimized damages and negotiated favorable settlements for numerous clients in a variety of employment matters. Katie has obtained favorable outcomes for employers in the federal and state trial courts of North Carolina, state and federal appellate courts, the Equal Employment Opportunity Commission, Department of Labor, Office of Administrative Hearings, and Division of Employment Security. Katie also regularly counsels and advises clients on avoidance of claims related to terminations, leaves of absence, reasonable accommodations, disciplinary actions, and restructuring issues.
Cranfill Sumner & Hartzog LLP
Cranfill Sumner & Hartzog LLP was founded in 1992 and serves clients across the state of North Carolina and beyond. They have built a reputation as a firm of tough-minded and tenacious trial lawyers who will work with clients at all stages of the litigation process, from avoiding incidents that may lead to lawsuits to navigating the complex state and federal court systems. With a culture deeply rooted in the core values of Teamwork, Reputation, and Client Services, the firm is focused on serving you—in the courtroom and beyond.