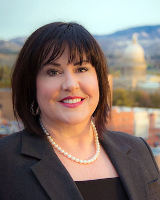 Amy G. White
Firm: Anderson, Julian & Hull LLP.
Location: Boise - ID
250 South Fifth Street, Suite 700




Boise, Idaho 83702




USA
Tel : 208-344-5800

Fax : 208-344-5510

Email : awhite@ajhlaw.com

Ms. White, a partner of Anderson, Julian & Hull LLP, has established an extensive employment and education law practice. She has also completed the training necessary to qualify as a mediator.
In the area of employment law, Ms. White works directly with employers to address:
Business policies and practices
Benefits
Discipline and termination
Hiring procedures
Ms. White has also handled matters for various employers with the Idaho Human Rights Commission, the EEOC and the Office of Civil Rights U.S. Department of Education.
In the area of education law, Ms. White works directly with school district administrators and board members to provide legal guidance and representation in various areas including:
Negotiation of Master Agreements
Student discipline and expulsion
Evaluation of policies and procedures
Employee discipline, suspension, probation, and termination
Investigations
Due process hearings
School funding
Employee mediation
Employee ADA accommodations and FMLA considerations
She is an active contributor and editor to the publication The Law of Education in Idaho, the leading authority on Education Law.
Ms. White presents numerous times each year to various School Boards, trustees, teachers and administrators.
She has presented to various committees at the Idaho Legislature relative to various proposed education laws, both with regard to traditional public schools and public charter schools. She has additionally provided individual training seminars to numerous groups within the educational arena.
Admissions:
Ms. White is admitted to all state courts in the State of Idaho; United States Court of Appeals, Ninth Circuit; the United States District Court for the District of Idaho; and the United States District Court for the Western District of Pennsylvania. Ms. White has been a member of the Idaho State Bar; the American Bar Association; the Federal Bar Association, Idaho Chapter; the Idaho Association of Defense Counsel; Phi Delta Phi; American Inns of Court No. 130; and the Defense Research Institute.
Trained and Certified as a Mediator
Experience in mediating workplace disputes between personnel
Attorney Fee disputes for Idaho State Bar – both as a Mediator and an Arbitrator
Works with governmental entities regarding drafting and editing of proposed legislation
Personnel Investigations
ADA facilitation of the Interactive Process
Education
She graduated with a Bachelor of Science degree in Administration of Justice from the Pennsylvania State University in 1989.
She completed graduate course work in the fields of Criminology and Public Administration.
She obtained her Juris Doctor degree from the University of the Pacific, McGeorge School of Law in 1992.
She was awarded Dean's Honor Roll (1991-1992).
Member, Owens, California Forms and Procedures Journal (1989-1990).
She was selected as Comments Editor by her fellow journal members.
Significant Cases
Ferguson v. Coregis Ins. Co., 2006 U.S. Dist. LEXIS 62327 (August 30, 2006)
Hancock v. Idaho Falls School Dist. No. 91, 2006 U.S, Dist. LEXIS 52243 9 July 27, 2006).
Dion v. Parma School Disrict No. 137, 2006 U.S. Dist. LEXIS 13273 (March 9, 2006).
Martin v. School District No. 394, 393 F. Suppl 2d 1028 (July 14, 2005).
Rose v. Loos, 130 Fed. Appx. 78, U.S. Supreme Court certiorari denied, 162 L. Ed. 2d 281, 125 S.Ct 2551 (U.S., June 6. 2005).
---
Anderson, Julian & Hull LLP.
Although Idaho is an "at will" employment state, claims for wrongful termination are not uncommon. Regardless of the employment scenario, the extensive experience of the employment attorneys at Anderson, Julian & Hull will ensure your case will be properly reviewed, analyzed and litigated.