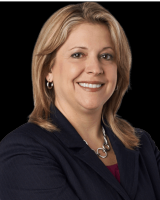 Amy L. Kullik
Firm: Mansour Gavin LPA
Location: Cleveland - OH
North Point Tower




1001 Lakeside Ave. Suite 1400




Cleveland, OH 44114
Tel : 216.523.1500

Fax : 216.523.1705

Email : akullik@mggmlpa.com

Ms. Kullik is the employment law practice group chair of Mansour Gavin and has extensive administrative and litigation experience in all aspects of public and private sector labor and employment law. She counsels employers on litigation prevention, human resource management, health and safety issues, and proactive compliance strategies for federal and state laws. She develops and conducts training and compliance seminars for employers, managers, supervisors and employees and defends employers in cases involving allegations of discrimination, sexual harassment, retaliation and wrongful discharge, as well as wage and hour disputes.
She is currently admitted in the U.S. District Court, Northern District of Ohio, U.S. Court of Appeals, Sixth Circuit and the U.S. Supreme Court. Amy frequently lectures on employment law and mentors law students and new lawyers.
Amy's notable cases include:
Dragmen v. Swagelok Co., 2014-Ohio-5345, 8th Dist. Ct. of Appeals
Overstreet v. Mack Industries, Inc., et al, 2007 Ohio 2911, 8th Dist. Ct. of Appeals
Layne v. Giant Eagle, et al, Case No. 05CV142567, Lorain Cty. Ct. of Common Pleas (defense verdict)
Bowers v. Swagelok Company, 2006 Ohio 3605, 8th Dist. Ct. of Appeals
Glasgow v. Goshen Dairy Stores, Inc., et al, 2004CT 020074, Tuscarawas Cty. Common Pleas Ct. (defense verdict)
Kiser v. Invacare Corp., Case No 05CV14741, Lorain Cty. Ct. of Common Pleas (defense verdict)
Vitatoe v. Lawrence Industries, Inc., 153 Ohio App.3d 609, 2003 Ohio 4187, 8th Dist. Ct. of Appeals
Hayes-Williams v. City of Cleveland, Case No. 1:97-cv-00542, U.S. Dist. Ct. Northern Dist. Of Ohio (defense verdict)
---
Mansour Gavin LPA
Formerly Merkel, Campbell, Dill and Zetzer, the firm began as the partnership of Reese Dill and Henry Zetzer in 1954. Ernest Mansour joined in 1955. In the late 1950s, the firm relocated from The Terminal Tower to 55 Public Square, in the heart of downtown Cleveland. In 1977, the firm restructured and became known as Mansour, Gavin, Gerlack & Manos Co., LPA.
The firm continued its growth over the next 30 years, increasing to its current size of 25 attorneys. In 2014, the firm simultaneously re-branded to become Mansour Gavin LPA and undertook its first office move in more than 50 years, relocating to North Point Tower at the corner of East 9th Street and Lakeside Avenue.
Today, Mansour Gavin provides a wide range of legal services to many successful privately held and publicly traded corporations. While we routinely handle complex legal matters, our firm focuses much of its attention on small and middle-market clients based in Northeast Ohio.
At Mansour Gavin, we take pride in striking a careful balance between offering the broad capabilities that large firms provide with the overriding commitment to personalized service that only small firms can deliver. It's what makes us an ideal choice for companies pursuing aggressive growth goals, but wanting thoughtful guidance along the way.