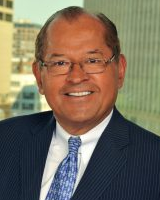 Manuel Sanchez
Firm: Sanchez Daniels & Hoffman LLP
Location: Chicago - IL
333 West Wacker Drive, Suite 500




Chicago, IL 60606




USA
Tel : (312) 641-1555

Fax : (312) 641-3004

Email : MSanchez@SanchezDH.com

Manuel "Manny" Sanchez is the Founder and Managing Partner of Sanchez Daniels & Hoffman. Over the past 31 years the firm has earned a reputation as one of the premier civil litigation defense firms in the State of Illinois and has grown into the second largest minority-owned law firm in the United States.
Manny is a highly accomplished trial lawyer, specializing in multi-million dollar complex product liability, construction, professional liability, employment law, civil rights, commercial and toxic tort defense litigation. He has been the lead counsel and successfully tried to verdict more than 75 cases in both State and Federal Court in Illinois, Missouri, and Indiana. He has received an AV Preeminent peer rating by Martindale-Hubbell for the past 29 years.
Highly regarded by his peers, he is a multi-term elected member of the Illinois State Bar General Assembly, past Co-chair of the ABA Commission on the Jury and in 2013 he was selected as the recipient of the 2013 Distinguished Award for Excellence by the Illinois Bar Foundation.
Manny has been recognized by the Leading Lawyer Network since 2003 in multiple areas of civil litigation work including product liability and toxic tort defense law. He is a Charter Fellow of Litigation Counsel of America. He has also been named annually a Super Lawyer in Illinois since 2006, a recognition given to the top 5% of attorneys in each State.
As Manny successfully grew his law firm, he became actively engaged in the Business, Civic and Not-for-Profit activities in and around the city of Chicago and State of Illinois. Indeed, Manny presently serves on the Boards of numerous business organizations including The Executives Club of Chicago, The Economic Club of Chicago, Chicago Inn of Court. He is a member of The Commercial Club of Chicago since 1995.
He currently serves on numerous Not-for-Profit Boards including: Children's Memorial Hospital, Choose Chicago, Steppenwolf Theatre, Northern Illinois Foundation, Loyola Council of Regents, Northwestern Memorial Foundation and Chicago Scholars.
Since the founding of the Law Firm in 1987, Manny has literally helped raise millions of dollars for eleemosynary causes including Chicago Scholars, Gary Sinise Foundation, and his alma maters, Northern Illinois University, University of Pennsylvania Law School and Holy Trinity High School.
Manny has received three gubernatorial appointments including appointment by Governor Edgar in 1996 to the Inaugural NIU Board of Trustees, where he served for 15 years, appointment by Governor Quinn to the Illinois Sports Facilities Authority in 2011 and appointment by Governor Rauner to Chairmanship of the Illinois Sports Facilities Authority. Additionally, in 2011 Manny was appointed by President Barack Obama to the President's Advisory Commission on Educational Excellence for Hispanics.
---
Sanchez Daniels & Hoffman LLP
Sanchez Daniels & Hoffman is a full service civil practice law firm with the top AV Martindale-Hubbell rating. The firm is actively involved in the preparation, trial and appeal, if necessary, of civil cases of all kinds including personal injury, property damage, coverage disputes and other litigation. The firm specializes in the fields of product liability, construction, asbestos, warranty, and civil rights litigation. A major portion of our practice is devoted to transportation issues, toxic torts, alleged "bad faith" insurance claims, insurance coverage, excess and reinsurance matters, homeowner's liability, and fire and explosion claims. Additionally, the firm handles contractual, commercial and real estate litigation as well as injunctive and/or equity relief, and appellate litigation. Sanchez Daniels & Hoffman also has extensive expertise in the fields of environmental and employment law.