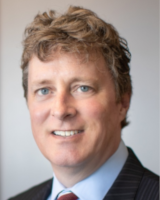 Dana Rust
Firm: McGuireWoods
Location: Richmond - VA
GATEWAY PLAZA 800 EAST CANAL STREET




RICHMOND, VA 23219-3916




USA
Tel : 804 775 1082

Fax : 804 698 2158

Email : drust@mcguirewoods.com

Dana is a seasoned trial lawyer, a trusted counselor to senior executives and general counsel, and a skilled negotiator. He has handled numerous sensitive and significant disputes within the C-suite, including severance and pension claims brought by senior executives as well as discrimination and retaliation complaints.
Dana earned his undergraduate degree at the College of William & Mary, and his law degree at the University of Virginia, where he was a member of the Law Review. Following law school, he clerked for Judge Robert Beezer of the U.S. Court of Appeals for the 9th Circuit in Seattle.
Employment Litigation
Dana is an experienced litigator in the employment discrimination area, having handled hundreds of discrimination cases and charges of discrimination in state and federal courts and administrative agencies throughout the country. He has tried to verdict age discrimination, sex discrimination, race discrimination, Equal Pay Act, Family and Medical Leave Act, workplace defamation and disability discrimination cases. He has litigated Title VII class actions in federal court and before the U.S. Equal Employment Opportunity Commission.
Traditional Labor
Dana regularly represents unionized employers. This experience includes negotiating collective bargaining agreements, defending unfair labor practice charges and defending arbitrations. Dana also counsels employers on how to remain union-free and represents employers in NLRB-sponsored elections.
ERISA
Dana defends employers in both pension and welfare benefit litigation. Representative cases include class action pension benefit litigation and single plaintiff claims for pension benefits, severance pay, disability and health benefits. He is experienced defending claims alleging breach of change in control severance pay plans. He has successfully represented employers assessed withdrawal liability from multi-employer plans.
Noncompete/Trade Secret Litigation
Dana represents employers as both plaintiffs and defendants in claims involving breach of noncompete agreements, theft of trade secrets and employee raiding. He has tried cases in this area in both federal court and in arbitration. He is experienced in the use of forensic computer evidence to prove the improper taking and use of electronic information.
OSHA/MSHA
Dana has represented employers before the U.S. Occupational Safety and Health Administration, the U.S. Mine Safety and Health Administration and state OSHA agencies. He has tried cases before OSHA and MSHA administrative law judges. His experience includes manufacturing and construction companies and he has represented employers in several cases involving workplace fatalities. He tried the first OSHA whistleblower case brought by the Virginia Department of Labor and Industry.
Firm Leadership
Dana has also held high-level leadership positions at McGuireWoods. He served on the firm's Board of Partners for six years. He also chaired the firm's Finance Committee for many years.
---
McGuireWoods
McGuireWoods is a full-service firm providing legal and public affairs solutions to corporate, individual and nonprofit clients worldwide for more than 200 years collectively. Our commitment to excellence in everything we do gives our clients a competitive edge in everything they do.
Our law firm, over its 184-year history, has earned the loyalty of our many longstanding clients with deep understanding of their businesses, and broad skills in corporate transactions, high-stakes disputes, and complex regulatory and compliance matters. Our wholly-owned affiliate, McGuireWoods Consulting, now in its 20th year, provides a unique — and uniquely potent — combination of state and federal government relations prowess, buttressed by world-class infrastructure, economic development, and advocacy expertise.
Working together from 27 offices in the U.S., Europe and Asia, McGuireWoods and McGuireWoods Consulting share a dedication to diverse perspectives, impeccable service, and innovative delivery of practical, business-minded solutions.
It all adds up to excellence . . . for our clients.