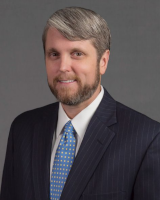 Daniel E. Harrell
Firm: Clark Partington
Location: Pensacola - FL
125 East Intendencia Street




Pensacola, FL 32502




USA
Tel : 850.208.7033

Fax : 850.432.7340

Email : dharrell@clarkpartington.com

Daniel Harrell is a shareholder and Chair of the General Litigation department at Clark Partington. His practice focuses primarily on labor and employment litigation and counseling, and non-compete and restrictive covenant litigation.
Daniel's labor and employment experience includes: Title VII actions involving race, gender and national origin discrimination, as well as sexual harassment, hostile work environment, constructive discharge and retaliation claims; claims under the Americans with Disabilities Act, the Age Discrimination in Employment Act and the Family and Medical Leave Act; Fair Labor Standards Act single-plaintiff and collective actions; ERISA actions alleging breaches of fiduciary duties; and union negotiations, disputes and arbitrations. Daniel regularly provides day-to-day advice and counseling to clients regarding compliance with various state and federal employment laws.
Daniel frequently litigates the enforcement of non-compete agreements and other similar restrictive covenants.
In addition, Daniel has significant general civil litigation experience that includes: insurance coverage dispute litigation; commercial fraud litigation; FINRA and AAA arbitrations; and appellate matters.
Daniel is a native of Pensacola, Florida and graduated from Booker T. Washington High School. Prior to returning to Pensacola, he practiced law with a national firm in Birmingham, Alabama, and an international labor & employment firm in Atlanta, Georgia. Before entering private practice, Daniel served as a law clerk to the Honorable W. Harold Albritton, III of the United States District Court for the Middle District of Alabama.
Outside of the office, Daniel enjoys spending time with his family (wife: Emily; children: Josie, Leighton and Graeme), playing golf and following college football.  He is also an avid supporter of Liverpool Football Club.
---
Clark Partington
Fueled by passion and driven to excellence, we are committed to doing the right thing, at the right time, the right way, for every client we serve—and have been for over 40 years.
Bill Clark, Don Partington, Bob Hart and Chris Hart created the firm in 1976 with the vision of a client-centric business model and fully collaborative internal team. Inspired by the idea that people can do more together than separately, they saw an opportunity to organize differently – with each partner taking ownership not only in the firm, but also of personal responsibility and accountability for delivering the best service to each and every client. In the 1980s, like-minded lawyers Dennis Larry, Bill Bond and Hank Stackhouse joined the original four men, further cementing the firm's core values. The firm grew with a wholehearted commitment to this shared vision and philosophy.
Today, Clark Partington's longevity is evidence of this success. For four decades, we've passed down knowledge and skill not only of legal matter, but of history and hospitality. Although a lot has changed in 40 years, the fundamentals of the Clark Partington vision remain the same.