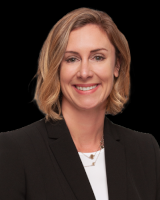 Katharine I. Rand
Firm: Pierce Atwood
Location: Portland - ME
254 Commercial Street Merrill's Wharf




Portland, ME 04101




USA
Tel : (207) 791-1267

Fax : (207) 791-1350

Email : krand@pierceatwood.com

Having worked in human resources and management in the private sector, Katy Rand brings hands-on experience to her practice. Her client work primarily involves employment law, with a focus on discrimination, harassment, retaliation, and wage / hour issues. Katy helps employers avoid litigation, counseling them on compliance and employee relations issues and, where appropriate, negotiating early resolution of disputes. She also has an active litigation practice, routinely advocating on behalf of employers in state and federal court, as well as before administrative agencies such as the Maine Human Rights Commission and Department of Labor.
In addition to her employment practice, Katy is a certified Title IX investigator and regularly conducts independent investigations for employers and educational institutions on a wide range of issues, including sexual harassment and sexual misconduct.
After college and before attending law school, Katy completed a management training program with Hannaford Brothers Company and worked for this major New England grocery retailer in various capacities, including as a department manager and department specialist, managing inventory and margins, addressing employee relations issues, implementing corporate marketing programs, and preparing for new store openings in North Carolina and Virginia. In addition, Katy worked as a Human Resources Consultant at L.L. Bean, where she helped managers navigate the kinds of issues she advises her clients on every day. After earning her law degree, Katy clerked for United States District Court Judge D. Brock Hornby.
---
Pierce Atwood
Pierce Atwood LLP is a highly regarded full service law firm based in New England, recognized nationally and internationally for its expertise in complex and class action litigation, energy production and distribution, mid-market mergers and acquisitions, information security and technology, commercial real estate development, and complex construction projects. Pierce Atwood provides legal and business counsel to its clients, which range from regional and local enterprises, utilities, financiers, middle-market companies, entrepreneurs, and individuals, to Fortune 500 companies, multinational corporations, and state and foreign governments. Clients derive superior value based on the firm's efficient and cost-effective service structure coupled with its high level of sophistication, responsiveness, and industry expertise.
At the Pierce Atwood law firm, our success is built on three core strengths: attracting and retaining superb legal talent, achieving superior client satisfaction, and delivering exceptional value. Our attorneys understand that our clients want creative and timely legal solutions from attorneys who understand their businesses. We also understand that clients want responsiveness and efficiency in the delivery of legal services. Our goal is to deliver all of these.