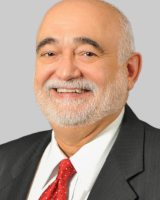 Michael V. Abcarian
Firm: Fisher & Phillips LLP
Location: Dallas - TX
500 North Akard Street, Suite 3550




Dallas, Texas 75201




USA
Tel : 214.220.9100

Fax : 214.220.9122

Email : mabcarian@fisherphillips.com

Michael Abcarian is managing partner of the firm's Dallas office. For over 30 years he has represented Fortune 500 corporations, units of local government, and local business interests in labor and employment matters.
He has handled hundreds of lawsuits in federal and state courts with an exceptional success record, including lead counsel defense of complex litigation and nationwide class actions.
Many of Michael's successful cases resulted in defense verdicts for employer clients following trial by jury. He also handles complex workplace safety matters, including fatality investigations, and has represented employers in high-visibility proceedings before the Occupational Safety and Health Administration (OSHA), the OSH Review Commission, and federal appeals courts.
Michael handles significant compensation compliance matters–some involving thousands of employees–in proceedings before the Wage & Hour Division of the U. S. Department of Labor (USDOL). He also appears frequently before the Equal Employment Opportunity Commission (EEOC) defending employers in discrimination matters.
Michael often represents employers before the National Labor Relations Board (NLRB) in union representation proceedings and unfair labor practice proceedings, and in arbitration of labor disputes as well as labor contract negotiations.
Throughout his career, Michael has been a sought-after speaker and a prolific author on labor and employment law issues.
Michael has for decades been "AV" Peer Review Rated by Martindale-Hubbell for preeminent skill and ethics, and listed in Texas Super Lawyers every year since 2004. He has also been listed in Best Lawyers in America every year since 2012, and continuously listed in Chambers USA since 2016.
In 2018, Michael was inducted as a Fellow into The College of Labor and Employment Lawyers. Election as a Fellow is the highest recognition by an attorney's colleagues of sustained and outstanding performance in the profession, exemplifying integrity, dedication and excellence.
Honors & Awards
Inducted as a Fellow into The College of Labor and Employment Lawyers (2018)
Chambers USA (2016-present)
The Best Lawyers in America (2012-present)
Texas Super Lawyers (2005-present)
---
Fisher & Phillips LLP
Some of the Savviest Employers Bring Us Their Toughest Employment Problems. Whether it's a class action involving thousands of potential class members, a jury trial with exposure in the millions, or a union organizing effort or strike that could cripple a company, employers with their choice of employment lawyers choose Fisher Phillips to handle their most difficult and dangerous cases.
We Are Innovative, Nimble and Always Evolving. We continuously look for ways to work more efficiently and better serve our clients. Our leadership is able to make decisions quickly to direct the necessary resources to a particular challenge. We are able to propose alternative fee arrangements that make sense and we use our broad database of experience to improve our processes.
We Are A Destination Law Firm of Choice for Labor and Employment Lawyers at the Top of Their Game. Many highly successful partners have chosen to bring their practices to our firm. They have been attracted by our entrepreneurial culture, our collegial atmosphere, the opportunity to practice with other excellent lawyers, and our transparent compensation system that rewards great client service.
We Have Deep Industry Experience As Well As Subject Matter Expertise. A great lawyer who is unfamiliar with a client's business is of limited value. We understand how our clients succeed, the business challenges they face, and how they employ people. Whether it's manufacturing, hospitality, healthcare, education, financial services, technology, retail, or other industries in which our clients compete, our labor attorneys understand the industry and speak the language.
We Operate Globally As Well As Locally. We have 33 offices and we continue to expand, and we have attorneys admitted in just about every U.S. jurisdiction. We know the local courts and agencies where we practice. We also have the resources to work seamlessly across offices to handle the most complex problems. In addition, we assist our clients with respect to global movement of employees, compliance with employment laws and codes of business ethics of other countries, and international employment contract and employee benefits issues. We have a network of local counsel on six continents with whom we partner to serve our clients anywhere in the world they operate.