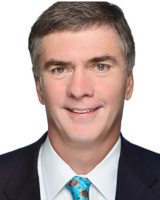 Randall D. Grady
Firm: Riezman Berger, P.C.
Location: St. Louis - MO
7700 Bonhomme Avenue, 7th Floor, Clayton




MO. 63105




USA
Tel : 314.727.0101

Fax : 314.727.6458

Email : grady@riezmanberger.com
A Shareholder of the firm and Chair of the Litigation Department, Randall D Grady practices in all areas of civil litigation and Employment Law. His clients range from multi-national corporations to small family owned businesses.
He has recently secured beneficial results for clients in civil litigation matters as diverse as enforcement of mechanic's liens, to resolving grain broker obligations following a regional brokerage collapse to protection and enforcement of corporate trademark rights.
Randy represents employers in all aspects of employment law. He has successfully defended discrimination lawsuits, claims before the EEOC and NLRB as well as wage and hour and FMLA disputes. Randy assists small businesses in handbooks and structuring employee policies. He frequently works with Human Resource departments to monitor compliance with Affirmative Action, ADA, FMLA and wage and hour regulations.
A graduate of Washington University School of Law, Randy is licensed in Missouri, Illinois and the District of Columbia. He is admitted to practice in the US District Courts for the Northern and Southern Districts of Illinois, the Northern District of Indiana, the Eastern District of Arkansas and the Eastern and Western District of Missouri. Randy is on the Board of Directors of the not for profit College Bound and captain's a cycling team actively involved in local charity rides.
---
Riezman Berger, P.C.
At Riezman Berger, we practice law differently. Our attorneys are trained to take a broader view of the client's overall legal needs and interests. This holistic approach gives our attorneys the foresight to spot potential legal issues before they arise. We are resourceful, inquisitive, and insightful. These are just a few distinguishing traits of a Riezman Berger attorney. These characteristics infuse everything we do and result in high quality legal counsel for our clients. We are your strategic partner and we act with your best interests in mind. We pride ourselves on our ability to provide our clients with an unmatched level of responsiveness and personalized attention. As our client, you will always work directly with an experienced attorney who is intimately familiar with your legal affairs.