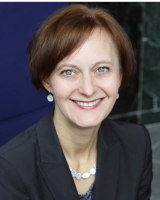 Susan E. Ellingstad
Firm: Lockridge Grindal Nauen
Location: Minneapolis - MN
Suite 2200 100 Washington Avenue South




Minneapolis, Minnesota 55401-2159




USA
Tel : 612-339-6900

Fax : 612-339-0981

Email : seellingstad@locklaw.com

Susan E. Ellingstad is a partner with Lockridge Grindal Nauen P.L.L.P. and heads the firm's employment law department. She represents large and small governmental and business clients in federal and state courts and administrative agencies in Minnesota and throughout the country. Ms. Ellingstad's practice includes claims involving employment discrimination and harassment under Title VII, the MHRA and other federal and state employment statutes, wage and hour violations, commercial litigation, and class actions. She frequently represents clients in labor arbitrations for wrongful termination.
Ms. Ellingstad also conducts independent workplace investigations for private and public employers, typically consisting of thorough fact-gathering to enable employers to take appropriate action in response to workplace complaints. Topics of investigations range from allegations of sexual harassment, race and other forms of discrimination, to various violations of policy including fraud, embezzlement, conflict of interest, code of conduct, civil service rules, and police procedures and conduct rules. In addition to conducting investigations, Ms. Ellingstad directs and oversees investigations conducted by external investigators on behalf of her clients.
In addition, Ms. Ellingstad frequently writes and lectures on the Fair Labor Standards Act and other employment law issues, conducts training seminars for businesses, and counsels employers in the areas of FLSA compliance, performance management and disability accommodation issues. She also mediates employment law cases.
Ms. Ellingstad has been named one of Minnesota's "Super Lawyers" by Minnesota Law & Politics/Super Lawyers, selected for the fifth consecutive year in the Top 50 Women Lawyers category and in 2018 was recognized as one of the Top 100 Minnesota Super Lawyers. She has also been selected to Minnesota Law & Politics' list of the Top 40 employment litigators in Minnesota. In 2016 she was named Attorney of the Year by Minnesota Lawyer.
---
Lockridge Grindal Nauen
For nearly 40 years, Lockridge Grindal Nauen P.L.L.P. has served clients throughout the Midwest and in Washington, D.C. Our attorneys and lobbyists have extensive experience in local, state, and federal government relations as well as antitrust, business, campaign finance, consumer, data breach, governmental, health care, employment, environmental, ERISA, intellectual property, real estate, securities, and tribal law and litigation.
Our firm represents clients of all shapes and sizes, taking the time to understand each client's goals and aspirations before tailoring our representation to meet their individual needs, whether they be in the courtroom, the halls of Congress, city hall, or in their state capitol.
Our clients include local and tribal governments, health care professionals and organizations, real estate developers, energy companies, telecommunications providers, casualty insurers, trade and industry associations, health and pension funds, unions, as well as issue-based coalitions.
Lockridge Grindal Nauen's attorneys and government relations professionals are assisted by an extensive support staff. The firm has offices in Minneapolis, Minnesota, Bismarck, North Dakota, and Washington, D.C.