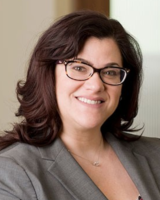 Teresa Shulda
Firm: FOULSTON SIEFKIN LLP
Location: Wichita - KS
1551 N Waterfront Pkwy #100




Wichita, KS 67206




USA
Tel : 316.291.9791

Fax : 866.347.5160

Email : tshulda@foulston.com

Teresa Shulda, a partner in Foulston Siefkin's Employment & Labor Practice Group, has been litigating employment disputes and advising on workplace law matters for more than a decade. Based in the firm's Wichita office, much of Teresa's practice is focused on employer-side issues. She represents businesses that range from some of the city's largest corporations with thousands of workers around the globe to small, closely held businesses with fewer than 10 employees.
Known for her deep understanding of federal regulations as well as Kansas employment laws, Teresa is a powerful advocate for her clients – both in and out of the courtroom. She regularly defends employers against discrimination claims, including those involving age, race, religion, national origin, gender, or disability allegations. In addition, Teresa handles disputes related to wrongful termination, breach of contract, civil rights, and whistleblower retaliation claims. She is particularly well-versed in federal statues such as the Family and Medical Leave Act (FMLA), Americans with Disabilities Act (ADA), Title VII, the Age Discrimination in Employment Act (ADEA), and Pregnancy Discrimination Act, as well as the Kansas Wage Payment Act.
Teresa represents clients in federal and state courts, in regulatory agency proceedings, and in alternative dispute resolution forums. In a widely publicized age discrimination suit, she worked on the Foulston team that obtained a decisive victory for her client when the jury rendered a defense verdict in less than two hours, ending a 10-year litigation that originated as a collective action. Her enviable track record also includes numerous summary judgments on behalf of clients, several of which have been confirmed by higher courts. Teresa has also achieved many successful outcomes for her clients who are defending charges of discrimination filed with the Equal Employment Opportunity Commission (EEOC) or the Kansas Human Rights Commission. An accomplished negotiator, she has secured highly favorable settlements for her clients that averted prolonged litigation.
Much of Teresa's practice includes advising clients on compliance-related issues and litigation-avoidance tactics. Working hand-in-hand with human relations departments, company owners, and in-house legal counsel, she crafts strategies that meet the company's goals and fulfill federal and state requirements. Because much of her early career was focused on employee representation, she applies her understanding of the workforce perspective when counseling employers.
Teresa is often asked to share her insights with human resources professionals and legal colleagues at seminars and meetings across the region. She serves as the co-editor of BLR's Kansas Employment Law Letter and frequently publishes articles and client alerts on timely topics and legal rulings.
---
FOULSTON SIEFKIN LLP
Established in 1919, Foulston Siefkin LLP is the largest and one of the oldest law firms in Kansas, with a strong tradition for legal excellence. We're proud to have our roots and our future in Kansas and the Midwest. The firm has grown to nearly 90 lawyers with offices in Kansas City, Topeka, and Wichita. Since our firm is based in Kansas, our clients benefit from a lower cost basis that can lead to a more personal, higher-value delivery of legal services from lawyers recognized by national organizations as among the leading lawyers in the United States.
The firm represents a broad range of clients mirroring the Kansas economy, including major agriculture, energy, and natural resource producers and processors, construction general and sub-contractors, corporations, financial institutions, franchisers and franchisees, health care and senior care providers, insurance companies, manufacturers, professional entities, public utilities, service providers and others. The firm's practice areas cover the spectrum of the legal profession, including legal issues involving:
Employment and Labor Affirmative action plans; employee relations; employee benefits, Employee Retirement Income Security Act (ERISA); employment contracts and non-compete agreements; employment discrimination defense; immigration; National Labor Relations Board representation; organized labor; Occupational Safety and Health Administration(OSHA); wage and hour; and workers compensation.
Civil and Complex Litigation Administrative representation; antitrust; banking; business contract and commercial disputes; class actions; data breach; insurance defense; intellectual property; mediation and alternative dispute resolution; qui tam; and tort defense in personal injury, products liability, professional malpractice and property damage.
Business Matters Commercial bankruptcy; contracts and agreements; corporate and entity formation; corporate finance; e-business; energy; environmental; federal and state taxation, including tax planning, contested tax disputes, elder, and estate planning; franchise and distribution; intellectual property; mergers and acquisitions; oil and gas; privacy and data security; private equity and venture capital; private placements; public policy law and government relations; real estate and construction; regulatory compliance; succession planning; tax exempt organizations; wind energy and water rights.
Health Care Law Regulatory and corporate compliance programs; anti-kickback; electronic health records; EMTALA; fraud and abuse; government investigations; HIPAA Privacy and Security; licensing, accreditation, and certification; managed care; medical malpractice; peer review and risk management; professional liability defense; reimbursement; and Stark law.