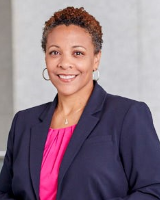 Trishanda L. Treadwell
Firm: Parker, Hudson, Rainer & Dobbs LLP
Location: Atlanta - GA
303 Peachtree Street NE Suite 3600




Atlanta, GA 30308




USA
Tel : (404) 523-5300

Fax : (404) 522-8409

Email : TLH@phrd.com

Trish is a partner with the firm's Litigation and Employment practice group. She represents clients in state and federal courts in a variety of commercial litigation contexts, primarily including employment and franchise disputes, but also including UCC and other banking litigation and general complex commercial litigation and arbitration.
As part of her employment law practice, Trish provides counseling and general advice on employment-related issues. She has represented clients before the Equal Employment Opportunity Commission, the Georgia Department of Labor, and FINRA, as well as in state and federal courts. Representative engagements include claims for discrimination and retaliation based on age, gender, race, religion, and disability; breach of employment agreements; alleged violations of federal and state wage and hour and leave laws; and advice regarding employment handbooks, policies, trade secrets, non-competes and other restrictive covenants, and executive and employee agreements.
Trish also has represented several franchisors in actions to enforce franchise agreements against franchisees or in actions by third parties asserting vicarious liability against the franchise system. Trish provides counseling for franchisors with respect to their disclosure documents, franchise agreements, terminations, and other issues. She also has spoken at state and national conferences regarding franchise issues. Trish is currently an editor for the Franchise Law Journal.
She has served on the Firm's diversity, recruiting, and mentoring program committees.
Trish is a graduate of Oglethorpe University (Atlanta, GA), where she is currently on the Board of Trustees and a member of its Executive Committee and former co-chair of the Oglethorpe Women's Network. After graduation, she taught middle school and high school before attending Georgia State University College of Law, where she graduated cum laude, was Student Writing Associate Editor of the Law Review, and served as president of the Student Bar Association. Trish currently serves on the board of the non-profit Trees Atlanta and serves on the Advisory Council for the Atlanta Legal Aid Society. She remains actively involved in local, state, and national bar associations. She is a consistent Saturday Lawyers volunteer with the Atlanta Volunteer Lawyers Foundation and has contributed a significant amount of time to pro bono work.
---
Parker, Hudson, Rainer & Dobbs LLP
Parker, Hudson, Rainer & Dobbs LLP is a mid-sized firm with an integrated collection of exceptional boutique practices in Alternative Dispute Resolution, Bankruptcy, Commercial Finance, Corporate and M&A, Employee Benefits/ ERISA, Employment and Civil Rights Litigation and Counseling, Health Industry, Litigation, Real Estate, and Tax. 2019 marks the firm's 38th year as a member of Atlanta's legal community. The firm now has over 80 attorneys serving clients from offices in Atlanta, Georgia and Tallahassee, Florida. We offer a full range of legal expertise in business matters in an environment that combines superior legal talent and work product with the advantages of excellent service, lower overhead, and efficient billing rates available through a mid-sized firm.
We are particularly honored to have been selected to join Meritas, a prestigious, highly selective international association of 182 full service law firms worldwide, in over 90 countries. Through our Meritas affiliation and access to more than 7,500 lawyers in member firms, Parker Hudson can assist our clients' needs for legal services in every state and throughout the world.